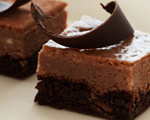 Prep: 30 min
Cook Time: 10 min
Total: 40 min
Serving: 16 bars
Perhaps the most decadent chocolate dessert ever; a layer of chocolate cookie, creamy chocolate cheesecake and a chocolate chip topping, make this a chocoholic's dream come true.
Ingredients
1 cup chocolate cookie crumbs
1/3 cup butter, melted
1/4 cup firmly packed brown sugar
1 (8-ounce) package cream cheese
1/2 cup Nutella or other chocolate spread
2 large eggs
1/2 cup granulated sugar
3 tablespoons baking cocoa
1 tablespoon all-purpose flour
1/2 teaspoon vanilla extract
1/2 cup chocolate chips
2 tablespoons butter
1 cup powdered sugar
1 (3-ounce) package cream cheese
1/2 teaspoon vanilla extract
Directions
Preheat the oven to 350 degrees.
Combine the chocolate cookie crumbs with the butter and sugar, by hand or in a food processor.
Place the mixture in an 8x8-inch baking pan, pressing flat, to cover the bottom of the pan. Put in oven and bake for 10 minutes.
In a large bowl, beat the cream cheese, the Nutella and the eggs until reaching a smooth consistency. Slowly add in the sugar, cocoa, flour and vanilla and mix well.
Spread the cream cheese mixture over the baked cookie crust and put in oven for 30 minutes. Cool and set aside.
In medium-sized bowl, combine the butter and remaining cream cheese and beat until smooth. Add the powdered sugar and the vanilla and continue beating until smooth. Stir in the chocolate chips. Spread mixture over the Cheesecake evenly and then cut into bars.