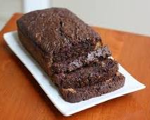 Prep: 20 min
Cook Time: 1 hr 20 min
Total: 1 hr 40 min
Serving: 1 loaf
Chocolate and almonds added to the traditional zucchini bread.
Ingredients
3 eggs
2 cups sugar
1 cup vegetable oil
1 teaspoon vanilla
2 cups grated zucchini
2 squares baking chocolate, melted
3 cups flour
1 teaspoon salt
1 teaspoon cinnamon
1/4 teaspoon baking powder
1 teaspoon baking soda
1 cup chopped almonds
Directions
Preheat oven to 350 degrees Fahrenheit. Grease and flour a loaf pan.
Beat eggs until the color of lemons. Mix in the sugar and oil.
In a large bowl, combine the egg mixture, vanilla, zucchini and chocolate.
Sift all the dry ingredients together, and blend in with the zucchini mixture. Fold in the nuts.
Pour into the prepared pan and bake for 1 hour and 20 minutes. Cool in the pan for 15-20 minutes, then on a rack until cooled completely.