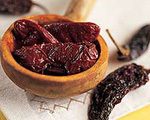 Prep: 10 min
Cook Time: 21 min
Total: 31 min
Serving: 8 servings
Spoon this chipotle chili on your favorite hot dog or burger, or triple the recipe for a hearty main dish meal.
Ingredients
2 slices bacon, finely chopped
1 medium white onion, finely chopped, divided
1 tablespoon minced jalapeño chile pepper
2 teaspoons minced garlic
1 pound ground sirloin
1 canned chipotle pepper in adobo sauce, chopped
1 teaspoon chili powder
1 teaspoon smoked paprika
1/2 teaspoon ground cumin
1/4 teaspoon salt
1 can (8-ounces) tomato sauce
1/2 cup lager beer, beef broth, or water
Shredded sharp cheddar cheese
Directions
Place the bacon and half the onion in a skillet and cook over medium heat for 5 minutes.
Stir in the jalapeno and garlic and cook for an additional minute before adding the ground beef.
Cook the beef mixture for 5 minutes, add the seasonings, tomato sauce and beer and bring to a boil.
Once boiling, reduce the heat to medium-low and simmer the mixture for 10 minutes, stirring frequently to prevent sticking. Serve hot sprinkled with some sharp cheddar cheese.