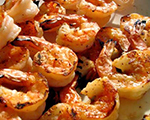 Prep: 1 hr 10 min
Cook Time: –
Total: 1 hr 10 min
Serving: Use for 16 Jumbo shrimp
This rub adds some pretty serious flavor to grilled shrimp. Use this recipe with 16 jumbo shrimp or 1-1/2 pounds.
Ingredients
1 tablespoon chipotle chile powder
1-1/2 teaspoons garlic salt
1 teaspoon ground coriander
1 teaspoon dried oregano
1/2 teaspoon ground cumin
1/2 teaspoons freshly ground black pepper
2 tablespoons extra-virgin olive oil
Directions
Put the chile powder, garlic salt, coriander, oregano, cumin, and pepper in a large bowl and whisk to mix.
Add the shrimp to the bowl, toss to coat, and then cover the bowl and refrigerate for 1 hour before grilling.