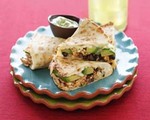 Prep: –
Cook Time: –
Total: –
Serving:
Did you know that 84.1 million pounds of avocados are consumed on Cinco de Mayo? That makes it one of the largest avocado consumption days of the year! But why wait? This chipotle chicken and avocado quesadilla recipe is wonderful with an Avocado Citrus Crema and is perfect any day, especially Cinco de Mayo. From chefs and restaurateurs Mary Sue Milliken and Susan Feniger, known together as the "Too Hot Tamales."
Ingredients
1-1/2 cups shredded, roasted chicken
3/4 cup canned black beans, drained
1 bunch green onions, white and light green parts only, thinly sliced
1 bunch cilantro, roughly chopped
3 tablespoons minced, canned chipotle chiles
2 tablespoons red wine vinegar
1 tablespoon extra-virgin olive oil
1 teaspoon salt
1/2 teaspoon freshly ground black pepper
1-1/2 cups grated Mexican manchego cheese
1 cup grated panela cheese
1/2 cup grated Cotija cheese
4 (10 inch) flour tortillas
2 tablespoons unsalted butter, melted
1-1/2 ripe, fresh California avocados, seeded, peeled and cut into 1/4 inch slices
Avocado Citrus Crema (see make-ahead recipe)
Directions
Combine chicken, black beans, onions, cilantro, chilis, vinegar, oil, salt, and pepper in a mixing bowl. Let sit 20 minutes to blend flavors.
Mix cheeses together in a bowl.
Lay tortillas on a counter and brush with melted butter.
Place a large skillet over medium-high heat. Place a tortilla, buttered side down, into the skillet and place a portion of cheese mixture over entire tortilla. Place a portion of chicken mixture over half of the tortilla, leaving the other half empty. Cover chicken mixture with a portion of avocado slices. Cook until cheese begins to melt, about 3 to 4 minutes
Fold tortilla in half over the avocado and chicken mixture. Continue cooking until tortilla is lightly golden on both sides and cheese begins to ooze. Repeat with remaining quesadillas.
Cut quesadillas into wedges and serve with Avocado Citrus Crema.