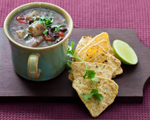 Prep: 5 min
Cook Time: 15 min
Total: 20 min
Serving: 6 Servings
A simple and delicious one-dish meal full of flavor and hearty goodness; this soup is a perfect for a weeknight dinner. Serve with crispy tortilla chips.
Ingredients
1 pound sweet potato (1 large), peeled and cubed (3/4-inch)
3/4 cup water
1/4 teaspoon salt
2 cans black bean soup (18- to 19-ounces each)
2 teaspoons finely chopped canned chipotles in adobo
1 tablespoon fresh lime juice
1/2 cup chopped cilantro
Directions
Place the sweet potato, water, and salt in a large saucepan, cover and bring to a boil.
Once the mixture begins to boil, reduce the heat and cook for 10 minutes.
Add the black bean soup and the chipotles, and simmer the mixture for 4 minutes.
Add the lime juice and cilantro, stir to combine and then ladle into bowls and serve.