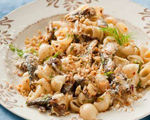 Prep: 10 min
Cook Time: 12 min
Total: 22 min
Serving: 4 Servings
This chiocciole pasta dish, made with sardines and breadcrumbs is a simple, Italian-inspired meal. Enjoy with a bottle of Verdicchio or an American Riesling.
Ingredients
1 pound dried chiocciole
1/4 cup extra-virgin olive oil
3 garlic cloves, thinly sliced
1/2 teaspoon dried red pepper flakes
2 (4-to 41/2-oz) cans sardines in oil
1/2 cup dried bread crumbs
3/4 cup finely chopped fresh dill (from 1 bunch)
1/4 cup grated Parmesan cheese
Sea salt and freshly ground pepper
Directions
Cook the pasta 'al dente' according to package directions, drain (reserving 3/4 cup cooking liquid), and set aside.
In the meantime, place the oil in a large sauté pan over medium-high heat. Once it begins to shimmer, add the garlic, pepper flakes and a few pinches of salt and pepper, and sauté the mixture for 2-1/2 minutes. Stir in the sardines and sauté for an additional 2 minutes; remove the pan from the heat.
Transfer the drained pasta to the sauté pan, along with the reserved cooking liquid, the dill and cheese. Add a few pinches of salt and pepper, gently toss the mixture to combine and serve immediately topped with the bread crumbs.