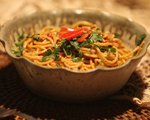 Prep: 15 min
Cook Time: 5 min
Total: 20 min
Serving: 4 Servings
If you don't have Chinese noodles in your pantry no problem; this dish works just as well with spaghetti.
Ingredients
2/3 cup creamy peanut butter
2 cloves garlic, peeled and minced
2 1/2 tablespoons grated fresh ginger
2 tablespoons sesame oil (reserve 2 teaspoons for noodles)
1 tablespoons soy sauce
2 teaspoons white vinegar
2 teaspoons chile oil or red pepper flakes
2 teaspoons sugar
1/2 cup warm freshly brewed black tea or warm water
Salt to taste
12 ounces Chinese wheat noodles
1 cup chopped cucumber
2/3 cup cilantro leaves
3 scallions, thinly sliced
Directions
Cook the noodles according to package directions, drain and return to pot. Drizzle with the 2 teaspoons of sesame oil and toss to coat.
Place the peanut butter, garlic, ginger, sesame oil, soy sauce, vinegar, chile, and sugar into bowl and stir until thoroughly blended.
Add the warm tea and a pinch of salt, and stir again to combine.
Pour the sauce over the noodles and toss to coat.
Serve the noodles topped with cilantro and scallions.