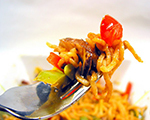 Prep: 20 min
Cook Time: 23 min
Total: 43 min
Serving: 4 Servings
This Chinese-inspired dish is both a simple and delicious combination of vegetables, shredded chicken and whole wheat noodles.
Ingredients
1 pound boneless, skinless chicken breasts
1/2 cup smooth natural peanut butter
2 tablespoons reduced-sodium soy sauce
2 teaspoons minced garlic
1-1/2 teaspoons chile-garlic sauce, or to taste
1 teaspoon minced fresh ginger
8 ounces whole-wheat noodles
1 12-ounce bag fresh vegetable medley, such as carrots, broccoli, snow peas
Directions
Place the chicken in a large saucepan wth enough water to cover. Bring to a boil and then reduce heat, cover, and simmer for 15 minutes.
When the chicken has boiled, transfer to a cutting board with a slotted spoon and then shred once cool enough to handle.
In the meantime, cook the noodles according package directions, adding the vegetables to the same pot 1 minute before the noodles are done. Bring back to a boil, cook for 1 minute and then drain, reserving 1 cup of the pasta liquid.
In a large bowl, add the peanut butter, soy sauce, garlic, chile-garlic sauce and ginger and reserved pasta liquid, and whisk together until smooth and creamy.
Add the pasta, vegetables and the shredded chicken to the bowl, and toss to coat. Serve immediately.