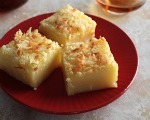 Prep: 15 min
Cook Time: 1 hr
Total: 1 hr 15 min
Serving: Serves 8 people
A treat for the end of a traditional meal, Chinese New Year Sticky Rice Cake is out-of-the-ordinary good!
Ingredients
1 tablespoon all-purpose flour
2 eggs, separated
1/4 cup butter
1/2 cup granulated sugar
1-1/4 cups glutinous rice flour
1/3 cup of milk
1 cup dried apricots (or your favorite dried fruit), chopped
1 piece of crystallized ginger, diced
1/2 cup of chopped walnuts
1 tablespoon toasted sesame seeds
Directions
Beat the egg whites until stiff and set aside. Cream together the butter and sugar. Add the yolks to the mixture and mix together well. Add about 1/3 of the glutinous rice flour and mix together well. Add about 1/2 the milk to the mixture. Alternately add the rice flour and milk to the mixture until all of both are mixed in.
Add the apricots (or other dried fruit) and then fold in the egg whites. Pour the batter into a loaf pan. You can either use a wok steamer to steam the cake for an hour, or if you don't have a steamer try the following: Place the loaf pan in a larger pan and fill the outer pan with water until it's about halfway up the side of the loaf pan. Bring the water to a boil, reduce the heat and simmer, covering the larger pan. Once steamed, sprinkle with the sesame seeds. Allow to cool before cutting into thin slices and serving.