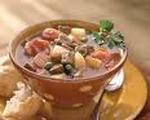 Prep: 15 min
Cook Time: 15 min
Total: 30 min
Serving: 4-6
Chinese Egg Flower Soup is a hearty way to warm up your family.
Ingredients
2 tomatoes, peeled
3 tablespoons vegetable oil
6 cups chicken broth
1 egg
1 tablespoon white wine
1 onion, cut into eighths
1 teaspoon salt
1/2 cup bok choy, shredded
Directions
Cut peeled tomatoes into eighths. Beat egg lightly and set aside.
Heat oil and saute onion until golden. Add tomato and remaining ingredients except egg. Bring to a boil.
Gradually pour in egg, stirring soup slowly. Serve hot. Top soup bowls with shredded boy choy.