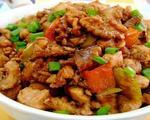 Prep: 10 min
Cook Time: 15 min
Total: 25 min
Serving: 4-6 people
Chinese chicken withWwalnuts is a delicious Asian dish that puts a phenomenal twist on your traditional chicken.
Ingredients
1-1/2 pounds boneless, skinless chicken breast
3 tablespoons soy sauce
2 teaspoons cornstarch
2 tablespoons dry sherry
1 teaspoon sugar
1 teaspoon grated fresh ginger root
1/2 tablespoon crushed red pepper
2 tablespoons olive oil
2 medium green bell peppers, cut into 3/4 inch pieces
4 green onions, sliced into 1 inch lengths
1/2 cup walnut halves
1/2 teaspoon salt
Directions
Cut chicken into 1 inch pieces. Set Aside.
Combine soy sauce and cornstarch. Stir until blended.
Add sherry, sugar, ginger root, red pepper, and salt to soy mixture.
Preheat wok or large skillet over high heat. Add olive oil.
Stir fry the green peppers and onions for 2 minutes. Remove.
Add walnuts and stir fry until golden. Remove. (Add more oil if needed)
Add half the chicken to pan and stir fry for 2 minutes. Remove.
Add remaining chicken to pan and stir fry for 2 minutes.
Return the first half of the chicken and soy mixture to the pan. Stir often, until bubbly.
Add vegetables and walnuts. Cover and cook for 2 minutes.