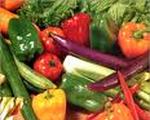 Prep: 35 min
Cook Time: 10 min
Total: 45 min
Serving: 4
Chinese Chicken Stir Fry will satisfy any craving for take out.
Ingredients
2 chicken breasts, boned and cut into 1 inch squares
Marinade: 1 garlic clove, minced
I tablespoon peanut oil
1 tablespoon soy sauce
1/2 teaspoon salt
1/4 teaspoon pepper
1 teaspoon cornstarch
1/4 teaspoon sugar
1/4 cup water
Vegetables: 3 green and red bell peppers, cut in lengthwise slices
8 green onions, cut in 2 inch pieces
3 stalks celery, cut diagonally
4 tablespoons of vegetable oil for stir frying
Directions
Combine ingredients for marinade and add chicken. Let marinade at least 30 minutes.
Stir fry vegetables in 2 tablespoon hot oil in frying pan or wok until crisp-tender. Remove from pan.
Remove chicken from marinade--save marinade. Add 2 tablespoons oil and stir fry chicken just until tender , about 5 minutes.
Return vegetables to pan and stir in reserved marinade. Simmer 2 minutes. Serve over rice.