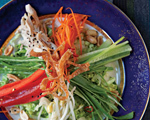 Prep: 15 min
Cook Time: 1 min
Total: 16 min
Serving: 4 Servings
This Chinese chicken salad is a far cry from the heavy mayonnaise-laden version we are used to in this country. With such beautiful presentation, this dish can easily be served for a dinner party for easy and delicious entertaining.
Ingredients
FOR THE SALAD:
Canola oil, for frying
5 wonton wrappers, cut into 1⁄4-inch strips
1⁄2 head Napa cabbage, cored and shredded
1⁄2 head romaine lettuce, shredded
1-1⁄2 pounds bone-in skin-on chicken breasts, roasted and shredded
1⁄2 cup loosely packed cilantro leaves
3 ounces mung bean sprouts
10 snow peas, julienned
4 scallions, thinly sliced
1 red bell pepper, cored, seeded, and julienned
1 carrot, peeled and julienned
1 cucumber, peeled, seeded, and thinly sliced
1 Thai chile, thinly sliced, for garnish
Black sesame seeds, for garnish
Roasted crushed peanuts, for garnish
FOR THE DRESSING:
1⁄2 cup canola oil
1⁄4 cup rice vinegar
3 tablespoons soy sauce
3 tablespoons smooth peanut butter
1-1⁄2 tablespoons Asian sesame oil
1 tablespoon fresh lime juice
1 tablespoon dry mustard
1⁄2 tablespoon honey
1⁄2 tablespoon toasted sesame seeds
1⁄2 teaspoon minced ginger
1 clove garlic, minced
Sea salt and freshly ground black pepper
Directions
First prepare the dressing by placing the oil, vinegar, soy sauce, peanut butter, sesame oil, lime, mustard, honey, sesame seeds, ginger, garlic and a few pinches of salt and pepper into a bowl. Whisk the mixture vigorously until thoroughly blended and then set aside.
Pour about 2-inches worth of canola oil into a saucepan and place over medium-high heat. Once the temperature reaches 350 degrees, add the wontons and cook for 30 seconds until crisp. Remove from the oil and place on some paper towels to drain.
Place the cabbage, lettuce, chicken, cilantro, sprouts, peas, scallions, peppers, carrots and cucumbers in a large bowl and drizzle with the dressing. Toss to coat and then garnish with the chiles, sesame seeds, peanuts, and wonton strips. Serve immediately.