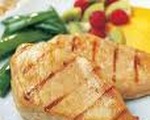 Prep: 15 min
Cook Time: 25 min
Total: 40 min
Serving: 6
Instead of take-out, Chinese Chicken Casserole is a nice treat.
Ingredients
3 cups cooked chicken, cut into large chunks
2 teaspoons lemon juice
1 tablespoon soy sauce
1/4 cup green onions, chopped
1 cup celery, chopped
1 (5 ounce) can water chestnuts, drained and sliced
1 (16 ounce) can beans sprouts
1/2 teaspoon salt
dash pepper
1 cup Miracle Whip
1/4 cup toasted almonds, chopped
chow mein noodles
Directions
Sprinkle chicken with lemon juice and soy sauce. Cover and chill 2 hours or longer. Add green onions, celery, water chestnuts, bean sprouts, salt, pepper and Miracle Whip.
Mix light but thoroughly. Turn into a greased 1-1/2 quart casserole. Sprinkle almonds on top. Bake at 350 degrees F for 25 minutes.