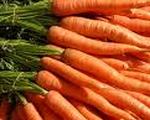 Prep: 12 hr 30 min
Cook Time: 15 min
Total: 12 hr 45 min
Serving: 6-8
Chilled Marinated Carrots are a refreshing side dish that goes great with everything.
Ingredients
4 pounds raw carrots, cleaned and peeled
1 meduim onion, diced
1 green pepper, chopped
1, 103/4 ounce can tomato soup
1/2 cup vegetable oil
1 cup sugar
3/4 cup vinegar
1 tablespoon prepared mustard
1 tablespoon Worcestershire sauce
Directions
Slice carrots about 1/4 inch thick. Cook covered in 1 inch of salted water until tender, about 10 minutes. Drain and cool.
Add onion and green pepper. Mix tomato soup, oil, sugar, vinegar, mustard and Worcestershire sauce. Bring to boil. Boil for 3 minutes. Pour tomato mixture over carrots, onion and green pepper. Refrigerate overnight.