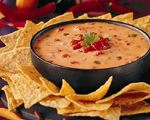 Prep: 15 min
Cook Time: 15 min
Total: 30 min
Serving: Serves 6
A real crowd pleaser, this gooey, spicy and cheesy dip is perfect for Super Bowl Sunday. Serve with a big bag of tortilla chips and cold beer.
Ingredients
1/2 onion, diced
4 cloves of garlic, minced
3 Serrano peppers, diced
3 jalapeno peppers, diced
2 tablespoons of butter
2 tablespoons of flour
1 cup of milk
6 cups of shredded Cheddar and Monterrey Jack cheese
1/2 cup of cilantro, chopped
1 can chopped tomatoes
1/2 cup of sour cream
Salt to taste
Directions
In a medium sauté pan, melt the butter and sauté the onions and peppers until onions are soft and translucent.
Put the garlic in the pan and continue to sauté for about 1 minute or until garlic is fragrant but not browned.
Sprinkle in the flour and whisk continuously for approximately 40 seconds.
Pour in the milk and continue whisking for about 5 minutes; the sauce will become thick. Drop in the cilantro and tomatoes and mix to incorporate.
Reduce heat to low and slowly add the cheese. Stir the mixture as the cheese melts so mixture does not stick. Mix in the sour cream and a sprinkle of salt and heat through. Pour into a dip bowl and serve hot.