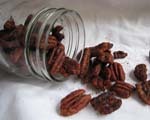 Prep: 15 min
Cook Time: 15 min
Total: 30 min
Serving: Serves 12
This chili spiced pecan quick recipe is perfect for entertaining.
Ingredients
1/4 cup butter
2 tablespoons Worcestershire sauce
1 teaspoon Tabasco sauce
1 teaspoon chili powder
1/4 teaspoon garlic powder
1/4 teaspoon cayenne pepper
4 cups pecan halves
Directions
Preheat oven to 350 F. Spread nuts in a 13- by 9-inch baking pan and set aside.
In a medium saucepan over medium heat, combine all remaining ingredients. Heat, stirring, until butter melts; toss melted butter and seasonings with pecans in baking pan.
Bake nuts at 350 F for about 15 minutes, until toasted and aromatic, stirring halfway through. Remove pan to rack and allow nuts to cool completely. Store in airtight container.