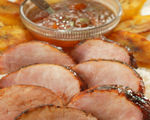 Prep: 24 hr
Cook Time: 20 min
Total: 24 hr 20 min
Serving: 8
For a sweet and spicy combination, try this recipe for chili-rubbed pork tenderloin. Topped with an apricot ginger glaze, this flavorful dish makes a yummy meal. This recipe is sponsored by the National Pork Board. You can prepare the dry rub in advance and store in a cool dry place in an airtight container. The apricot glaze can also be made ahead of time and refrigerated.
Ingredients
2 pork tenderloins (about 2 pounds total), trimmed
1 tablespoon chili power
1 tablespoon garlic powder
1/2 tablespoon sugar
1 teaspoon salt
1/2 teaspoon ground black pepper
1 1/2 cups apricot preserves
1/2 cup barbecue sauce
1 teaspoon grated ginger
1/2 teaspoon garlic powder
1/2 teaspoon hot sauce
1 tablespoon chopped cilantro
Juice of 1 lime
Directions
Place chili powder, garlic powder, sugar, salt and pepper in a jar; shake to blend. Rub spice mixture onto pork tenderloins. Cover tenderloins and refrigerate for 2 to 24 hours.
Prior to grilling, melt apricot preserves in saucepan over medium heat. Remove pan from the heat and stir in remaining glaze ingredients. Place half of the glaze in a serving bowl and hold for service.
Prepare grill at medium-high heat. Grill pork tenderloins for 15-20 minutes, or until the internal temperature of the pork reaches 160 degrees F. on an instant-read thermometer.
When approximately 4 minutes of cook time remains, brush the pork tenderloins with the apricot glaze remaining in the pan. Cook for 2 minutes, turn the pork tenderloins and brush glaze on other side. Cook for an additional 2 minutes.
Remove pork from the grill and let set for about 5 minutes before slicing. Serve with reserved glaze.