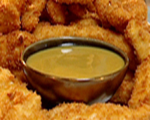 Prep: 15 min
Cook Time: 15 min
Total: 30 min
Serving: 4
This is a tangy tasty sauce for fish.
Ingredients
1/4 cup butter
1/4 cup minced onion
1 clove garlic, minced
1/2 teaspoon salt
1/4 teaspoon pepper
1 teaspoon worcestershire sauce
1 teaspoon prepared mustard
2 tablespoons chili sauce
Directions
Combine butter, onion and garlice in a saucepan over low heat.
Cook until onion is tender, about 10 minutes.
Stir frequently to prevent browning.
Add salt and the remaining ingredients.
Mix well.
Heat again until it simmers.