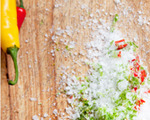 Prep: 5 min
Cook Time: 30 min
Total: 35 min
Serving: Makes 1/2 cup
Use organic limes for this Chili Lime Salt recipe, as you will be using the zest from the limes.
Ingredients
1 large fresh red chili
1/2 cup flaky sea salt
finely grated zest of 2 organic limes
Directions
Preheat your oven to 300 degrees.
Using a sharp knife, remove the seeds from the chili and then finely mince. Place the chili into a mortar and pestle, along with the salt and the lime zest, and crush until the mixture achieves a fine, crumbly-like texture.
Spread the mixture onto a baking sheet and place in the oven for 30 minutes to dry.