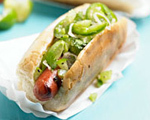 Prep: 15 min
Cook Time: 10 min
Total: 25 min
Serving: 4 Servings
These are not your traditional American hot dogs but fresh and spicy Chilean-style dogs with intense flavor in every bite.
Ingredients
2 tablespoons extra virgin olive oil
2 tablespoons snipped fresh cilantro
2 medium jalapeño chile peppers, stem removed and thinly sliced
2 small shallots, peeled and thinly sliced
2 tablespoons lime juice
1 cup diced green and/or red tomatoes
2 avocados, peeled, pitted, coarsely chopped
Sea salt and freshly ground pepper
4 all-beef frankfurters
4 tablespoons butter, softened
1 teaspoon minced garlic
sub or hoagie rolls, split
Directions
Cook the hot dogs as desired and according to package directions.
In a medium-sized bowl, place the olive oil, cilantro, jalapeños, shallots, lime juice and a few pinches of salt and pepper, and then whisk to combine. Add the tomatoes and avocados and gently mix until blended.
Place the butter and the garlic into another bowl and stir vigorously to combine.
Lightly toast the rolls and then immediately top with the butter mixture. Add a cooked hot dog to each prepared roll and then top with the jalapeno mixture. Serve at once.