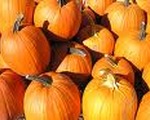 Prep: 3 hr 15 min
Cook Time: 15 min
Total: 3 hr 30 min
Serving: 6
Chiffon Pumpkin Pie is spiced with cinnamon and nutmeg and smooth as silk.
Ingredients
3 egg yolks, beaten
3/4 cup packed brown sugar
1-1/2 cups cooked pumpkin
1/2 cup milk
1/2 teaspoon salt
1 teaspoon cinnamon
1/2 teaspoon nutmeg
1 envelope unflavored gelatin
3 egg whites
1/4 cup sugar
1 baked pie shell
Directions
Combine first 7 ingredients in top half of a double boiler. Cook until thick, stirring constantly.
Soften gelatin in 1/4 cup cold water. Stir into hot mixture, stirring to dissolve.
Beat egg whites until soft peaks form. Add sugar gradually, beating until stiff. Fold into pumpkin mixture. Pour into pie shell. Chill until set. Garnish with whipped cream.