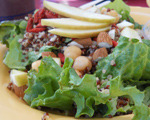 Prep: 1 hr 10 min
Cook Time: 15 min
Total: 1 hr 25 min
Serving: 4 Servings
Chickpeas, quinoa, goji berries, apples and almonds make this exotic and multi-flavored salad a hearty and delicious vegetarian meal.
Ingredients
1 cup uncooked quinoa
1 cup cooked chickpeas, rinsed and drained
1/4 cup dried goji berries
1 apple, cored and diced
1/2 cup whole almonds, roughly chopped
1-1/2 teaspoons ground cumin
1/2 cup orange juice
1/2 teaspoon salt
2 tablespoons olive oil
sliced apples, for garnish
Lettuce leaves to garnish
Directions
Cook the quinoa according to package directions, fluff with a fork and then set aside to cool slightly.
In the meantime, place the cumin, orange juice, salt and olive oil into a large salad bowl and whisk vigorously to blend. Place the cooked quinoa, chickpeas, goji berries, apple and almonds into the bowl and toss the salad to combine. Cover the mixture and place in the refrigerator for 1 hour to chill.
Divide some lettuce leaves between 4 plates and then top with the chilled chickpea and quinoa salad. Garnish with some sliced apples and serve.