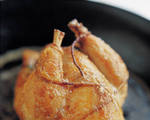 Prep: 15 min
Cook Time: 1 hr 30 min
Total: 1 hr 45 min
Serving: 6
An elegant Sunday meal, Chicken with Tarragon Gravy is best served with a generous portion of buttery mashed potatoes.
Ingredients
1, 5 to 6 pound roasting chicken, washed well
2 tablespoons olive oil
2 bunches fresh tarragon
salt and pepper to taste
1 cup white wine
2 tablespoons butter
Tarragon Gravy: 2 to 3 tablespoons pan drippings
3 cups hot chicken broth
2 tablespoons butter
Directions
Preheat oven to 350 degrees F. Rub the outside of the chicken with olive oil, liberal amounts of tarragon, and salt and pepper. Pour the wine in the bottom of the roasting pan. Dot the chicken with small pieces of butter. Place a foil tent loosely over the chicken and bake for 1 hour. Remove foil and cook for another 15 to 20 minutes or until chicken is done and juices run clear.
Remove chicken from pan and set aside. Pour off the fat in the pan, reserving 2 to 3 tablespoons to make the gravy.
To make gravy: Place the pan with the drippings on the stovetop over high heat. Add the hot broth, one ladle full at a time and stir, constantly scraping the bottom of the pan to incorporate the brown bits. After all the broth has been added, reduce by half, turn off the heat and add the butter, 1 tablespoon at a time, until well combined. Serve gravy with chicken.
Note: An unstuffed chicken takes 20 minutes per pound to cook. Prick the thigh with a fork and when the juices run clear the chicken is done.