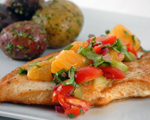 Prep: 30 min
Cook Time: 20 min
Total: 50 min
Serving: Serves 4
This is an extremely easy recipe for a weeknight dinner, but impressive enough for a casual dinner party with friends. You can also substitute clementine or mandarin juice for the orange juice, to get a wonderful new twist of flavor.
Ingredients
4 chicken breast halves
2 oranges, peeled, diced
1 cup cherry tomatoes, quartered
1/2 cup finely diced red onion
1/2 cup finely diced celery
1/4 cup coarsely chopped fresh basil
1/4 cup coarsely chopped fresh cilantro
2 tablespoons extra-virgin olive oil
2 tablespoons fresh lime juice
1 serrano chile, seeded, minced
2 tablespoons olive oil
1/2 cup fresh orange juice
Directions
Cut two pieces of wax paper, parchment paper or plastic wrap. Put the chicken breast halves between the two sheets and pound thin with a mallet. Aim for 1/4-inch thickness.
In a medium bowl, mix the oranges, tomatoes, onion, celery, basil, cilantro, olive oil, lime juice and the chile. Sprinkle with salt and pepper and mix well. Set aside.
In a large sauté pan, heat the olive oil over medium-high heat until hot but not smoking. Sprinkle the chicken breasts with salt and pepper, and add to the pan. Cook chicken on each side for about 4 minutes and then set aside.
Add the orange juice to the pan and boil until reduced to about 1/4 cup. Stir often to prevent sticking.
Place chicken on individual plates, drizzle with orange sauce and spoon on the salsa. Serve immediately.