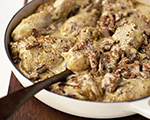 Prep: 10 min
Cook Time: 20 min
Total: 30 min
Serving: 6 Servings
A classic family favorite, serve this simple chicken dish with a side of green beans and fingerling potatoes.
Ingredients
1 pound sliced fresh mushrooms, such as button or shiitake
3 tablespoons butter
6 skinless, boneless chicken breast halves
3 tablespoons rice vinegar or white wine vinegar
1-1/2 cups whipping cream
3 tablespoons capers, drained
Salt & freshly ground pepper to taste
Directions
Place 1 tablespoon of butter into a large sauté pan over medium-high heat, and sauté the mushrooms for 5 minutes. Transfer to a plate and set aside.
Sprinkle the chicken breasts on both sides with salt and pepper.
Add the remaining 2 tablespoons of butter to the pan and then add the chicken breasts. Cook over medium heat for 10 minutes, flipping once after 5 minutes. Transfer chicken to a plate and keep warm.
Take the pan off the heat and deglaze the pan with vinegar, stirring vigorously to loosen any bits from the bottom.
Place the sauté pan over medium heat and add the cream, capers and pepper. Bring to a boil and cook for 2-1/2 minutes.
Add the mushrooms back into the pan and cook for 1 more minute. Spoon the mixture over the chicken breasts and serve immediately.