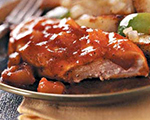 Prep: 10 min
Cook Time: 13 min
Total: 23 min
Serving: 4 Servings
The sweet spiced apples in this dish pair beautifully with the tender chicken breasts, making this a tasty and simple mid-week dinner meal.
Ingredients
2 apples, peeled and thinly sliced
1 tablespoon lemon juice
1/4 teaspoon ground cinnamon
3 teaspoons extra-virgin olive oil, divided
3 teaspoons unsalted butter, divided
1-1/8 teaspoons herbes de Provence, divided
1/2 teaspoon salt
1/4 teaspoon freshly ground pepper
1-1/2 pounds boneless, skinless chicken breasts, trimmed and pounded to 1/2-inch thickness
1 cup reduced-sodium chicken broth
1 teaspoon freshly grated lemon zest
Directions
Place the apples in a small bowl and add the lemon juice and cinnamon. Toss to coat.
Place 1 teaspoon of the oil and 1 teaspoon of butter in a medium sauté pan over medium-high heat, and sauté the apples for 4 minutes. Remove the pan from the heat, cover and set aside.
Put 2 teaspoons of oil and 2 teaspoons of butter into a large frying pan over high heat. Sprinkle the chicken with 1 teaspoon of the herbes de Provence, salt and pepper, and then cook in the skillet for 3 minutes on each side. Remove chicken from pan and set aside, covered, to keep warm.
Whisk the broth, lemon zest and remaining herbs into the frying pan, scraping up any bits from the bottom of the pan. Cook the mixture for 3 minutes.
Place the chicken on a platter and top with the sautéed apples and sauce. Serve immediately.