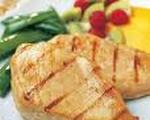 Prep: 25 min
Cook Time: 1 hr 25 min
Total: 1 hr 50 min
Serving: 8
Puff pastry is what makes Chicken Wellington an elegant and classic dish.
Ingredients
1/2 onion, finely chopped
12 mushrooms, chopped
2 tablespoons parsley, minced
4 tablespoons butter, divided
1 pound chicken tenders
1, 8 ounce package cream cheese
1 tablespoon Dijon mustard
2 sheets frozen puff pastry, thawed 20 minutes
Directions
Saute onions and mushrooms in 2 tablespoons butter until tender. Add parsley.
Cream mustard, cream cheese and softened buttered in a small bowl.
Roll puff pastry on lightly floured surface to 12 by 12 inch square. Cut into four 6 by 6 inch pieces. Spread 1/8 of the cream cheese mixture in the center of each piece. Top with three chicken tenders, bunched together. Top with 1/8 of mushroom mixture.
Fold edges of dough up around chicken sealing all edges with a little water. Bake at 375 degrees F for 40 minutes, until puffed and brown.