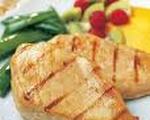 Prep: 1 hr 25 min
Cook Time: 1 hr 25 min
Total: 2 hr 50 min
Serving: 10
This Chicken Tetrazzini recipe will serve a hungry crowd.
Ingredients
10 chicken breast, cut in half
1/2 pound butter
1, 16 ounce package spaghetti, cooked and drained
1 pound fresh mushrooms, chopped
1 bunch green onions, chopped
7 cans cream of chicken soup, undiluted
2, 16 ounce containers sour cream
2, 4 ounce jars chopped pimentos, undrained
2 tablespoons Beau Monde seasoning
grated Parmesan cheese for topping
salt to season chicken breasts
Directions
Lightly salt chicken breasts. Boil or steam breasts in a large pot until meat is fork tender. Remove chicken breasts and let cool.
Remove meat from the bone and slice chicken into bite size pieces; set aside
In a large saucepan, melt butter. Saute onions and mushrooms about 5 minutes over low heat. Add the soup and sour cream and mix well. Cool slightly.
Combine soup mixture with chicken and cooked spaghetti. Stir in pimentos. Sprinkle with Beau Monde seasoning. Mix well. Spoon mixture in a well greased 3 quart casserole dish. Sprinkle with Parmesan. Bake at 300 degrees F for 45 minutes or until bubbly.