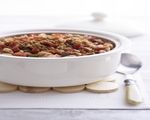 Prep: 20 min
Cook Time: 4 hr 30 min
Total: 4 hr 50 min
Serving: 8
This chicken stew will warm you up on a cold day.
Ingredients
4 skinned, boned chicken breasts, cut into bite-size pieces
2 cup water
1 cup frozen small whole onions
3 stalks celery, sliced
2 carrot, sliced
1 teaspoon paprika
1/2 teaspoon salt
1/2 teaspoon rubbed sage
1/2 teaspoon dried thyme
1/2 teaspoon black pepper
1 large can fat-free chicken broth
2 cup sliced mushrooms
1, 6-ounce can tomato paste
1/4 cup water
3 tablespoons cornstarch
2 cup frozen green peas
Directions
Combine all the ingredients except the water, cornstarch and peas in a large electric slow cooker.
Cover with lid, and cook on high-heat setting for 4 hours or until carrot is tender.
Combine water and cornstarch in a small bowl, stirring until blended.
Add cornstarch mixture and peas to crock pot.
Stir well.
Cover and cook on high-heat setting an additional 30 minutes.