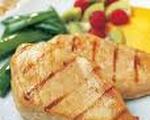 Prep: 30 min
Cook Time: 45 min
Total: 1 hr 15 min
Serving: 4-6
Chicken Spinach Combo is a great combo casserole.
Ingredients
4-6 chicken breasts, boneless
2 packages frozen leaf spinach
1 can cream of chicken soup
1 teaspoon lemon juice
1/3 cup mayonaise
1/2 teaspoon dijon style mustard
1/2 cup Velveeta cheese, diced
garlic salt to taste
Directions
Brown chicken breasts in vegetable oil. Season with garlic salt.
Place spinach in boiling water and cook slightly. Drain well.
Stir together soup, lemon juice, mayonaise and mustard.
Spoon a small amount of the sauce in bottom of a 9 inch baking pan.
Layer cooked spinach and diced cheese. Place chicken over spinach, spoon remainder of sauce over all.
Bake at 350 degrees F for 45 minutes. Cover last 15 minutes.