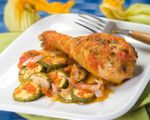 Prep: 20 min
Cook Time: 8 hr
Total: 8 hr 20 min
Serving: 5
Brought to you from the Crockery Cookery cookbook.
Ingredients
1 frying chicken, cut up
1/4 cup flour
3 tbsp. sesame seeds
1/2 tsp. salt
1/4 tsp. pepper
1/4 cup salad oil
1 small onion, chopped
2 stalks celery, chopped
1/2 cup dry white wine
1 chicken bouillon cubes, crumbled
1/2 tsp. tarragon
1/4 cup cornstarch
1/4 cup water
1 cup sour cream
Directions
Coat chicken with mixture of flour, sesame seeds, salt and pepper.
In large skillet or slow-cooking pot with browning unit, brown chic hen in oil.
Add onion, celery, wine, bouillon cubes, and tarragon.
Cover and cook on low 6 to 8 hours.
Turn control to high.
Remove chicken to warm shallow dish.
Dissolve cornstarch in water and stir into pot.
Cook on high 15 minutes.
Turn heat off.
Stir in sour cream.
Pour sauce over chicken.