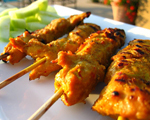 Prep: 25 min
Cook Time: 35 min
Total: 1 hr
Serving: Makes 12 Skewers
You may want to make a double recipe of these succulent pieces of chicken dipped in peanut sauce, as they are always one of the first things to go at parties.
Ingredients
1 pound skinless, boneless Chicken Thighs, cut into 1/2 inch strips
1 clove Garlic, minced
2 Teaspoons minced fresh Ginger Root
2 Teaspoons Peanut Oil
4 Shallots, minced
2 teaspoons minced Garlic
2 teaspoons minced fresh Ginger Root
2 small Red Chile Peppers, seeded and minced
1/2 Cup Crunchy Peanut Butter
1-3/4 cups Coconut milk
2 Teaspoons Soy Sauce
2 Teaspoons Brown Sugar
1-1/2 Tablespoons Lime Juice
12 Wooden Skewers, soaked in water for 1 hour
Directions
Place the garlic and ginger into a large bowl and add the chicken. Toss to combine, cover and marinate in the refrigerator for at least 1 hour.
In the meantime, place the peanut oil in a sauté pan over medium heat and sauté the shallots, ginger and Chile peppers for 7 minutes.
Reduce the heat to low and add the peanut butter, coconut milk, soy sauce, brown sugar and lime juice; stir to blend. Simmer the mixture for 10 minutes and then remove from heat and cover to keep warm.
Prepare the grill on medium high heat.
Thread the chicken onto skewers and then cook on the grill for about 3 minutes per side. Serve with the peanut sauce.