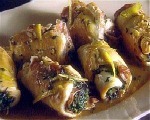 Prep: 10 min
Cook Time: 25 min
Total: 35 min
Serving: Serves 6 people
An impressive dish, Chicken Saltimbocca is a recipe that is perfect for a special dinner.
Ingredients
6, 3-ounce chicken cutlets, pounded evenly so they are flat
Salt and freshly ground black pepper to taste
6 very thin slices of prosciutto
1, 10-ounce box of frozen chopped spinach, thawed
3 tablespoons of olive oil, divided
1/4 cup of grated parmesan cheese
1, 14-ounce can of low-sodium chicken broth
2 tablespoons of fresh lemon juice
1/2 lemon, sliced thinly, to use as garnish
Directions
Sprinkle the flattened chicken with salt and pepper. Lay one slice of prosciutto atop each chicken cutlet.
Squeeze the frozen spinach to remove any remaining water. Season the spinach with salt and pepper. In a small bowl, toss the spinach with 1 tablespoon of olive oil, until all the spinach is coated.
Place an even, thin layer of spinach on top of each of the prosciutto slices. Sprinkle the parmesan cheese evenly over each piece of chicken.
Start with the short, tapered end of the chicken, gently roll up each cutlet. Secure the roll with one or two toothpicks.
Heat the remaining 2 tablespoons of oil in a large skillet over high heat. Add the chicken and cook until each is golden brown (about 2 minutes on each side).
Add the chicken broth and lemon juice. Scrape the pan down of any of the bits stuck to the bottom of the pan. Bring the liquid to a boil, reduce to medium heat, and cover and simmer until the chicken is cooked through (about 8-10 minutes).
Transfer the chicken to a platter. Continue to simmer the liquid over high heat until it is reduced to about 2/3 cup (about 5 minutes). Season the liquid with salt and pepper to taste.
Remove the toothpicks from the chicken, drizzle with the reduced liquid, garnish with the lemon slices, and serve.