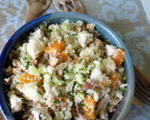 Prep: 30 min
Cook Time: 15 min
Total: 45 min
Serving: Makes 6-8 Servings
This light, healthy and satisfying salad is made with a combination of chicken, quinoa, dried fruit and fresh herbs and spices.
Ingredients
3 large (1-1/2 pounds) skinless, boneless chicken breasts
1 bay leaf
2-1/2 cups water, divided
1 cup white quinoa
12 pods green cardamom, crushed
1 tablespoon peeled, chopped ginger
2 tablespoons honey
2 cups mixed dried fruit, chopped
1 large navel orange, peeled and segmented
1 large apple, chopped
3 stalks celery, chopped
1 cup finely chopped parsley
juice of 1 large lemon
sea salt and freshly ground pepper
Directions
Place the chicken into a pot along with the bay leaf, 1-1/2 cups of water and a few pinches of salt. Simmer the mixture over medium heat for 15 minutes. Remove the chicken from the pot (reserve liquid for stock) and cut into chunks once cool.
In the meantime, cook the quinoa as directed on the package and then set aside to cool.
Place 1 cup of water, the cardamom, ginger and honey into a saucepan. Bring the mixture to a boil and cook, covered, for 12 minutes. Strain the mixture and return the liquid to the pot. Add the dried fruit and bring to a boil. Once boiling, remove the pot from the heat and let sit for 10 minutes.
Place the cooked chicken, cooked quinoa, dried fruit, oranges, apples, celery, parsley, lemon juice and a few healthy pinches of salt and pepper into a salad bowl. Toss gently to combine and then serve.