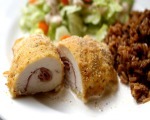 Prep: 20 min
Cook Time: 40 min
Total: 1 hr
Serving: Serves 4 people
Wild mushrooms and ham bring nice flavors to this dish. A pretty presentation combined with great tastes make Chicken Rolls with Ham and Mushroom a great dinner. Serve with your favorite pasta.
Ingredients
2 tablespoons butter
1 garlic clove, chopped
1-1/4 cups cooked white long grain rice
3 tablespoons ricotta cheese
2 teaspoons chopped fresh flat leaf parsley
1 teaspoon chopped fresh tarragon
4 skinless chicken breast fillets
4 slices Parma ham
1 tablespoon olive oil
1/2 cup white wine
salt and pepper to taste
Reserved parsley sprigs for garnish
2 cups of sauteed wild mushrooms of your choice (chanterelles, morel, porcini, etc.)
Directions
Preheat your oven to 350 degrees. Melt 2 teaspoons of the butter in a medium pan and fry the garlic for about 20-30 seconds.
To a medium-sized bowl, spoon in the cooked garlic, cooked rice, ricotta, parsley and tarragon. Season the ingredients with salt and pepper to taste and mix together well.
Place each chicken breast between two sheets of plastic wrap and lightly beat them with a rolling pin or mallet, to flatten them. Divide the ham slices between each chicken breast, trimming them to fit on top of the chicken.
Add a spoonful of the rice mixture at the widest end of the ham-topped chicken breast. Roll up each breast carefully, and secure the ends with toothpicks.
Add the remaining butter and the olive oil to a large frying pan and over medium-high heat, lightly fry each of the chicken rolls until browned all over. Once lightly fried, place them in a shallow baking dish and pour the white wine over them.
Lightly cover the dish with foil and bake in the oven for 30-35 minutes, or until tender.
Once cooked, cut the rolls into slices and add the sauteed mushrooms to top them. Garnish with a sprig of parsley.