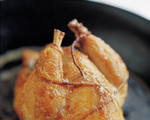 Prep: 30 min
Cook Time: 1 hr 30 min
Total: 2 hr
Serving: 6-8
Let everyone wear their crown as they sit down to enjoy Chicken Rice Imperial.
Ingredients
1/2 stick butter
8 chicken breasts
salt and pepper to taste
1/4 cup sherry
1 cup sour cream
1/2 cup mayonaise
1 teaspoon parsley
6 cups cooked rice
2 cans cream of chicken soup
Directions
Place butter in 9 x 13 inch pan in oven at 350 degrees F. Let butter melt. Place chicken, skin side up, in pan and sprinkle with salt and pepper.
Sprinkle with sherry. Bake 1 hour. Remove from oven and cool.
Remove bones and skin and break into bite size pieces.
Place cooked rice in shallow casserole. To the dripping in the baking dish, add sour cream, soup, mayonaise and parsley. Mix.
Pour half of sauce over rice and mix thoroughly. Arrange chicken on rice, add remaining sauce. Baked covered at 350 degrees F for about 35 minutes or until bubbly.