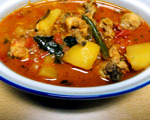 Prep: 25 min
Cook Time: 1 hr 45 min
Total: 2 hr 10 min
Serving: 6
The addition of spinach to Chicken Potato Stew make it a complete meal in a pot.
Ingredients
1, 4 pound broiler-fryer chicken
2 chicken bouillon cubes
4 potatoes, well scrubbed
1 1/2 cups onion, chopped
2 teaspoons tarragon
4 carrots, sliced
1, 10 ounce bag fresh spinach, washed, trimmed
1 1/2 cups skim milk
2 teaspoons salt
1/4 teaspoon hot pepper sauce
Directions
Place chicken in large kettle. Fill half full with water; add bouillon cubes, potatoes, onion and tarragon. Bring to a boil; covered; reduce heat.
Simmer for 30 minutes or until potatoes are tender. Remove potatoes; add carrots. Peel and mash potatoes; set aside.
Cook chicken and carrots for 20 to 30 minutes longer or until tender. Remove chicken from kettle; debone. Add mashed potatoes, chicken and remaining ingredients to kettle. Heat through. Do not overcook spinach.