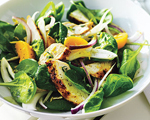 Prep: 20 min
Cook Time: 15 min
Total: 35 min
Serving: 4 Servings
Peaches are not only for dessert, but actually pair wonderfully with spinach, onion and chicken. Try this fresh salad served with slices of grilled chicken and drizzled with a champagne vinegar vinaigrette.
Ingredients
2 cloves garlic, minced
2 teaspoons finely grated lemon rind
1 teaspoon chopped fresh thyme
1/2 teaspoon each salt and pepper
2 tablespoons extra-virgin olive oil
2 boneless skinless chicken breasts
1 bag baby spinach
1 cup thinly sliced fennel
1/3 cup thinly sliced red onion
3 peaches, peeled, pitted and sliced
3 tablespoons shelled sunflower seeds, lightly toasted
For the Vinaigrette:
3 tablespoons extra-virgin olive oil
2 tablespoons champagne vinegar
1/2 teaspoon sugar
1/4 teaspoon each salt and pepper
Directions
Prepare a grill or oven broiler.
Combine the garlic, lemon rind, thyme, salt and pepper in a small bowl and whisk. Slowly add the olive oil and continue whisking to blend.
Brush the oil mixture onto the chicken and grill, turning once, for about 15 minutes. Allow to cool and thinly slice. Set aside.
In a large bowl, add the oil, vinegar, sugar, salt and pepper and whisk to combine. Add the spinach, fennel, onion, peaches and chicken and toss well to coat all of the ingredients. Sprinkle salad with toasted seeds and serve.