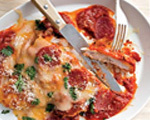 Prep: 10 min
Cook Time: 25 min
Total: 35 min
Serving: 4 Servings
Classic chicken parmesan is given an extra kick of peppery flavor with the addition of Italian pepperoni.
Ingredients
2 large eggs
1/4 cup milk
1/2 cup all-purpose flour
2 cup panko bread crumbs, finely crushed in a food processor
4 8-ounce skinless, boneless chicken breast halves, pounded 3/4 inch thick
Sea salt and freshly ground pepper
3/4 cup olive oil
1-1/2 cups tomato sauce
1/4 cup freshly grated Parmigiano-Reggiano cheese
1 cup shredded mozzarella
2 ounces sliced pepperoni
2 tablespoons chopped flat-leaf parsley
Directions
Preheat the oven to 450 degrees.v
Beat the eggs and milk in a shallow bowl and set aside.
Place the panko breadcrumbs in another shallow bowl.
Sprinkle the chicken on both sides with salt and pepper and then dust with some flour. Dip the chicken in the egg mixture and then dredge in the breadcrumbs pushing to adhere.
Place a large skillet over medium-high heat and add the oil.
Once the oil begins to shimmer, add the chicken and cook, turning once, for 8 minutes. Transfer to a baking dish and then top with the tomato sauce, Parmigiano, mozzarella and pepperoni.
Place the dish in the oven for 15 minutes and then serve hot sprinkled with parsley.