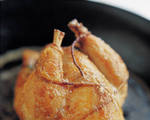 Prep: 25 min
Cook Time: 1 hr 10 min
Total: 1 hr 35 min
Serving: 4
Chicken Paprikash is made simple by using a jar of chicken gravy.
Ingredients
2 1/2 pounds chicken pieces
1/4 cup flour
1 teaspoon salt
dash pepper
2 tablespoons shortening
1 tablespoon paprika
1 onion, sliced
1 jar chicken gravy
1/2 cup dairy sour cream
hot cooked noodles
Directions
Coat chicken pieces with flour, salt and pepper. Brown in shortening. Remove chicken; drain excess fat. Stir paprika into drippings; add onion and gravy.
Return chicken to skillet. Cover and simmer 45 to 55 minutes or until chicken is tender. Remove chicken; slowly stir in sour cream. Serve chicken and sauce on noodles.