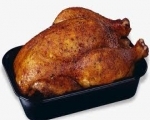 Prep: 10 min
Cook Time: 15 min
Total: 25 min
Serving: 4 people
For a quick and delicious dirt cheap dinner, all you have to do is pick up a rotisserie chicken and combine a few healthy ingredients to make this chicken noodle salad.
Ingredients
1/2 rotisserie chicken, shredded
1 bag of baby spinach, washed
2 ounces mozzarella cheese, cubed
2 ounces angel hair noodles, broken into small pieces and cooked according to directions on the package
1/2 cup dried cranberries
small drizzle of extra virgin olive oil
small splash of vinegar (flavor optional such as red wine vinegar)
Directions
Cook pasta according to directions on the package, then drain and set aside to cool slightly.
Wash spinach then transfer it to a large serving bowl.
Shred chicken and add it to the spinach.
Add the pasta, mozzarella, dried cranberries, extra virgin olive oil and vinegar.
Toss and serve.