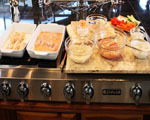 Prep: 10 min
Cook Time: 30 min
Total: 40 min
Serving: 4 people
This chicken nacho bake is everything you love about nachos!
Ingredients
4 small boneless skinless chicken breast halves (1 lb.)
1/2 cup TACO BELL® HOME ORIGINALS® Thick 'N Chunky Medium Salsa
1/2 cup crushed baked tortilla chips
3 KRAFT 2% Milk Singles
2 slices OSCAR MAYER Bacon, chopped
1 small onion, chopped
2 cups grape tomatoes
4 cups cooked long-grain brown rice
1/4 cup BREAKSTONE'S Reduced Fat or KNUDSEN Light Sour Cream
Directions
Heat oven to 400ºF.
Place chicken on foil-covered baking sheet; top with salsa.
Bake 20 min. or until done (165ºF), topping with crushed chips and 2% Milk Singles for the last 5 min.
Meanwhile, cook bacon in large skillet until crisp. Use slotted spoon to remove bacon from skillet; drain on paper towels.
Discard drippings from skillet. Add onions to skillet; cook and stir 5 min.
Stir in tomatoes; cook 4 to 5 min. or until tomatoes begin to pop, stirring occasionally.
Add rice; cook 5 min. or until heated through, stirring occasionally. Stir in bacon.
Top chicken with sour cream. Serve with rice mixture.
Nutrition Information Per Serving: 470 calories, 10g total fat, 4g saturated fat, 0g trans fat, 85mg cholesterol, 630mg sodium, 58g carbohydrate, 6g dietary fiber, 7g sugars, 36g protein, 25%DV vitamin A, 10%DV vitamin C, 25%DV calcium, 15%DV iron. Exchange: 3-1/2 Starch, 1 Vegetable, 3 Meat (L) Dietary Exchanges (or Exchange Calculations) based on Choose Your Foods: Exchange Lists for Diabetes © 2008 by the American Diabetes Association and the American Dietetic Association. TACO BELL® and HOME ORIGINALS® are trademarks owned and licensed by Taco Bell Corp.