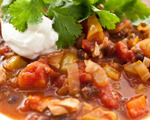 Prep: 10 min
Cook Time: 1 hr 15 min
Total: 1 hr 25 min
Serving: 4 Servings
The amount of spices used in this Chicken 'n' Chili recipe are dependent on your own personal taste, so feel free to increase, or decrease for that matter, the amounts to suit your personal preference.
Ingredients
2 large yellow onions, diced
2 tablespoons butter
3 cloves garlic, finely minced
2 red bell peppers, cored, seeded, and diced
2 yellow bell peppers, cored, seeded, and diced
1 teaspoon chili powder
1-1/2 teaspoon ground cumin
1/4 teaspoon dried red pepper flakes
1/4 teaspoon cayenne pepper
2 teaspoons sea salt
2 (28-ounce) cans diced tomatoes
2 (15 ounce) cans black beans
1/4 cup minced cilantro stems
3 cups chicken cooked, shredded
Directions
chopped cilantro and sour cream to garnish
Place the butter into a large sauté pan over medium-low heat. Once melted, add the onions and sauté for 12 minutes until soft, and then add the garlic and cook for an additional minute.
Stir in the bell peppers, chili powder, cumin, red pepper flakes, cayenne, and salt, and cook the mixture for 1 minute before adding the diced tomatoes.
Bring the mixture to a boil and then reduce the heat to medium-low and simmer for 30 minutes, making sure to stir occasionally to prevent sticking.
Add the chicken, beans and cilantro stems to the pan and simmer for an additional 20 minutes.
Ladle the chili into bowls and serve topped with chopped cilantro and a dollop of sour cream.