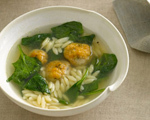 Prep: 10 min
Cook Time: 12 min
Total: 22 min
Serving: 4 Servings
Orzo, also known as 'risoni,' is a kind of pasta shaped like a grain of rice. Enjoy it in this spinach and chicken meatball soup served with a slice of fresh bread and a glass of American Sauvignon Blanc.
Ingredients
1 cup orzo
1 tablespoon extra-virgin olive oil
1 pound fresh chicken sausage, such as sweet Italian, casings discarded
1 large garlic clove, very finely chopped
6 cups low-sodium chicken broth
Sea salt and freshly ground black pepper
1 5-ounce bag baby spinach, 5 cups
Directions
Roll the chicken sausage into twenty 1-inch meatballs and set aside.
Prepare the orzo according to package directions and then rinse under cold water. Drain and set aside.
In the meantime, place the oil in a soup pot over medium-high heat. Once hot, add the prepared meatballs, cook for 5 minutes until browned and then transfer to a plate. Place the garlic into the pot and cook for 1 minute over medium heat, and then pour in the broth and bring to a simmer.
Transfer the meatballs back to the pot, add a few pinches of salt and pepper, and then cook the mixture for 4 minutes. Stir in the spinach and the orzo and bring the mixture to a simmer. Cook for 1 minute and then serve.