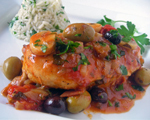 Prep: 25 min
Cook Time: 1 hr
Total: 1 hr 25 min
Serving: Serves 4-6
Chicken Marengo is a classic Italian savory dish made of braised chicken and mushrooms in a wine and tomato sauce. Serve with fresh country bread and a crisp green salad.
Ingredients
8 pounds chicken parts
1 onion, thinly sliced
1/2 cup olive oil
1/2 cup dry white wine
3 crushed garlic cloves
1/2 teaspoon thyme
1 bay leaf
Sprigs of Parsley
1 cup chicken stock
2 cups Italian-style tomatoes
20 small pearl onion, peeled
1 pound mushrooms, sliced
1/4 cup butter
Juice of 1 lemon
1 cup pitted Kalamata olives
1 jigger brandy
Chopped parsley
Directions
Sauté the onion for 6 minutes over medium-high heat in a large sauté pan. Remove from pan and set aside.
Add in the chicken and brown on all sides.
Add the wine, garlic, thyme, bay leaf, parsley sprigs, chicken stock and tomatoes into the pan and bring to a boil. Once boiling, lower heat to medium-low and simmer for 1 hour.
Remove the chicken from the sauté pan and place on a platter. Strain the sauce through a sieve and then simmer it on medium-high heat for 5 minutes.
Preheat the oven to 350 degrees.
In another sauté pan, sprinkle the pearl onions and the mushrooms with salt and pepper and sauté in the butter and the lemon juice for 5 - 6 minutes.
Place the chicken in a casserole dish and top with the mushroom mixture, the brandy and the tomato sauce. Place in the oven until heated through. Garnish with chopped parsley.