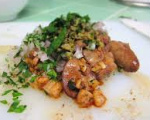 Prep: 10 min
Cook Time: 30 min
Total: 40 min
Serving: 4-6 servings
Chicken liver and gizzard dish.
Ingredients
1 pound chicken livers
1 pounds chicken gizzards
1 onion, chopped
1/2 green pepper, chopped
1/4 teaspoon garlic salt
1/2 teaspoon salt
1/2 teaspoon pepper
1/2 cup cooking oil
1 cup flour
Directions
Season the gizzards and liver and roll in 3/4 cup flour, brown in the hot fat. Remove and drain.
Remove the fat, reserving 4 tablespoons. Stir in 4 tablespoons flour until brown. Stir in the onions and pepper. Add 2 cups of water and stir.
Mix in the livers and gizzards and simmer for 10 minutes.