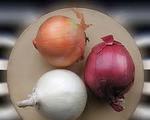 Prep: 4 hr 15 min
Cook Time: 5 min
Total: 4 hr 20 min
Serving: 10
Surround Chicken Liver Pate with crackers and cocktail rye bread for a spectacular appetizer.
Ingredients
1/2 cup butter, unsalted
1 large onion, sliced
1 hard cooked egg
1 1/2 tablespoons cognac
1/2 teaspoon salt
1/8 teaspoon pepper
1/4 teaspoon thyme
1 tablespoon shallots, minced
dash nutmeg
1 1/4 pounds chicken livers
Directions
In 2 tablespoons butter, saute onion until tender. Remove from skillet.
Heat remaining butter, add chicken livers, saute over medium heat 3 to 5 minutes. Liver should be pink inside.
Put the sauteed onion, chicken livers, egg and cognac in food processor; pulse until smooth. Turn into bowl. Stir in salt and pepper, thyme, shallots and nutmeg. Pour into a bowl. Refrigerate covered until well chilled.
To serve: Turn out of bowl onto serving plate and surround with crackers and cocktail rye bread.