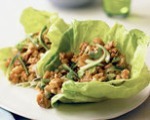 Prep: 25 min
Cook Time: 10 min
Total: 35 min
Serving: Serves 8 people
An appetizer perfect for parties, Chicken Lettuce Wraps add crunch and tang to any festivities.
Ingredients
2 teaspoons of light soy sauce
4 teaspoons of low-sodium chicken broth
1 teaspoon of sesame oil
1 teaspoon of cornstarch
2 large (or 3 small) boneless, skinless chicken breasts
2 teaspoons of canola oil
4 large garlic cloves, chopped
1 tablespoon of finely chopped, fresh ginger (optional)
3 whole scallions, chopped
1/2 cup of finely chopped carrot
1/2 cup of finely chopped celery
2 tablespoons of hoisin sauce
2 tablespoons of plum sauce
8 large leaves of iceberg lettuce, rinsed and dried
1/2 cup of crunchy chow mein noodles (canned)
Directions
Mix the soy sauce, broth, sesame oil and cornstarch in a small bowl.
Place the chicken breasts in a food processor. Drizzle the marinade over top of the chicken and process the mixture until the chicken is ground, or finely chopped.
Spoon the mixture into a small bowl, cover and refrigerate for 30 minutes.
Heat a non-stick skillet over medium heat. Add the canola oil, garlic and ginger and cook for about 10 seconds.
Add the chicken mixture to the pan, breaking up the lumps into small pieces. Cook until the chicken is cooked through (about 6 minutes).
Add the chopped scallions, carrot and celery to the chicken. Cook, tossing with a spatula until tender (about 1 minute).
Stir in the hoisin and plum sauces and toss.
When ready to serve, spoon the chicken mixture into each lettuce leaf and sprinkle with 1 tablespoon of the chow mein noodles each.